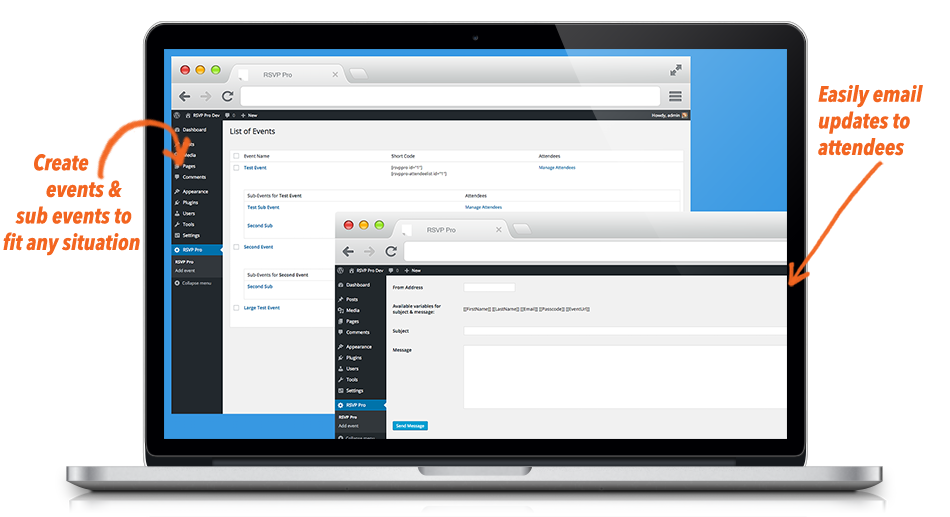 | Feature | Free | Professional | Business |
| --- | --- | --- | --- |
| Attendee List | ✓ | ✓ | ✓ |
| Custom Questions | ✓ | ✓ | ✓ |
| Email Notifications | ✓ | ✓ | ✓ |
| Multiple Events | | ✓ | ✓ |
| Sub-Events | | ✓ | ✓ |
| Mass Emailing | | ✓ | ✓ |
| Import/Export Attendees | ✓ | ✓ | ✓ |
| Waitlist | | ✓ | ✓ |
| Public Attendee & Event List | | ✓ | ✓ |
| Fuzzy Attendee Search | | ✓ | ✓ |
| Recurring Events | | ✓ | ✓ |
| Scheduled Reminders | | ✓ | ✓ |
| Edit Everything from Admin | | ✓ | ✓ |
| Ability to "Check-In" Attendees | | ✓ | ✓ |
| # of installs | | 1 | Unlimited |
As Many Events As You Need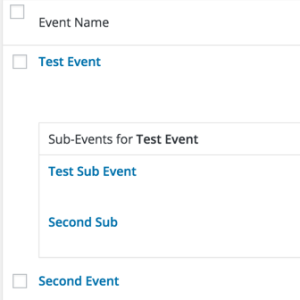 Whatever your event management needs are, RSVP Pro has your back. Does your wedding have 49 different events that need managing? We can do that. Have a meeting that actually includes different sub-events but you only want certain people to be invited to specific sub-events? Yeah, we cover that. Need to add a wait list? Great, we have that, as well. If RSVP Pro doesn't cover a certain scenario that you need, let's talk and we can make it happen.
Easily Send Emails to Your Guests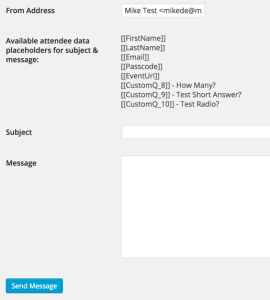 Need to send a message to all or some of your guests? With RSVP Pro, you can easily send out updates or reminders.
Copious Amounts of Customizations
Need to change what data is used to RSVP? Check. Need to change the form so it allows for multiple steps instead of one long form? Check. Want different text customizations? Check. Want the plugin to make espresso? Ch… Wait, not yet. There are many more customizations that RSVP Pro allows, and to get a feel for them, please head over to our demo site.
Customer support from a real human
Client demands are escalating? Your event is encountering some random snag? We're here for you. All requests go directly to real people committed to replying as quickly as we can. In addition to our How-Tos section, we are here, happy to help you figure out a piece of functionality. We pride ourselves on making sure our customers are happy.
What Our Users Are Saying
"It was 100% worth buying the plugin just for your support alone…" – Michael D
"I just wanted to say thanks and well done on this plugin. I used it on my wedding website and it's been really easy to configure and great for my guests." – Kelly B
"You have developers and 'develosupporters'. Mike is definitely the last one. He helped me out with all my ideas, was very friendly and answered my e-mails really fast. If you're looking for a good working plugin and fantastic support, then look no further!" – Bart K
30 Day Money Back Guarantee
We believe in our product and in you. That's why we will issue a full refund within 30 days of your purchase. No questions asked.