With RSVP Pro, we have integrated with PolyLang to make it easier to create specific translations for your install. Using PolyLang allows you to have the same RSVP form in multiple different languages.
To use this functionality, you first have to install the PolyLang plugin once installed if you go to the "Strings Translation" under the "Languages" admin area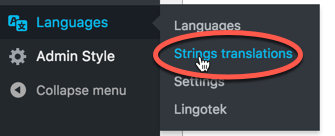 you will see entries with a group name of "RSVP Pro" or "RSVP Pro Admin." We created two groups to help with filtering and selecting which strings to work on when translating. For example, if you just want to translate front-end strings you would select "RSVP Pro." To translate via PolyLang, all you need to do is change the string to the text you want and then click "Save Changes" inside of PolyLang. An example is below.

Translation Files and Polylang
The plugin has translation files in the start .po and .mo format. These are used by default for a language if a translation exists. If not then English will be the default. However, if you use PolyLang for a language that has a translation file for it the PolyLang string will be used instead.
Have questions? Feel free to contact us!