Introduction
The RSVP plugin has the flexibility to allow for open registrations on an event.  An open registration means that anyone can sign up and say that they will attend the event – there is no specified invitee list.  Until you setup the open registration option, the plugin will default to a set registration/invitee list. Two good examples for an open registration are a meet-up or community party.
How to Set Up an Open Registration
After creating an event, go into the event settings and click on the "Front-End" tab. There are a few options that we can enable that allow for open registration. The most important is the option with a label of "Allow Open Registration."  When this option is checked, anyone will be able to RSVP. By default, when an event is open a passcode is required to edit an RSVP but not to initially RSVP. This is to make harder for other people to modify another person's registration record. When going to the front-end after enabling this feature a person will be presented with a form that looks like: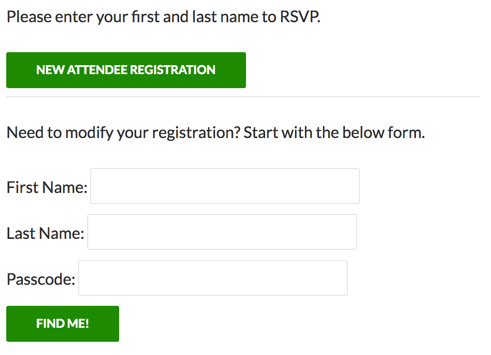 The top button is for a new attendee and the bottom is for returning and/or attendees that have been added to the invitee list already.
There are a few additional Pro only options that can modify the open RSVP experience they are listed below:
"Attendees can't edit their RSVPs": selecting this option removes the lower form. It will also automatically take the person RSVP'ing to the RSVP form so they don't have to click an extra button.
"For open registrations prompt to add a user if not found in user search": selecting this option hides the "new user button" until after someone tries to find themselves to edit.
"No passcode required on open registration": this will turn off the passcode being required for returning users.
If you have any questions feel free to contact us!