With events where it is important to know how many people actually attended the RSVP Pro plugin offers the ability to check-in attendees. Checking-in can be even easier by including a QR code in the email that attendees receive when they RSVP. The QR code can be used as their ticket to check-in an attendee.
The first thing we have to do is enable the check-in functionality for the RSVP Pro plugin. Refer to the "Check-In Documentation Page" for detailed instructions. The summary though is to go to your main event's "General" settings tab and check the setting "Allow Attendee Check-ins."
Including the QR Code in Attendee Emails
Once the check-in functionality is enabled, we need to add a QR code tag to emails. The two main ways to send a QR code would be via the send message functionality or in the email that gets sent to an attendee when they RSVP. In this guide, I will walkthrough adding the QR code to the email the attendee receives when they RSVP. However, the steps are similar for both cases.
The following steps are:
Go to your event's settings area.
Click the "Notifications" tab.
Find the setting "Email body for the attendee email."
Add "[[QR]]" to the email body.
Click "Update Event."
Below is an example email body

When an attendee RSVPs they will receive an email which includes the QR code.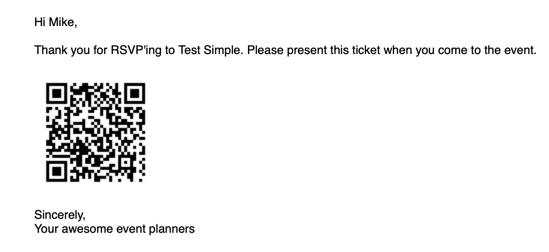 With this, an attendee can bring it to your event to be scanned and checked-in.
Scanning the QR Codes
The easiest way to scan the QR code is with an internet-connected Android or an iOS device. For an iOS device you can use the camera application and when you go to scan the QR code, it will prompt you to open the link in Safari.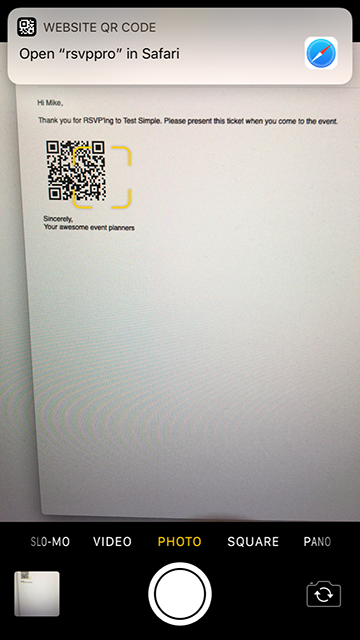 For Android, a third-party application from the AppStore must be used
Upon successful check-in, the message "Attendee checked in" will be displayed in your browser.
If you have questions about this feature or have suggestions on how to improve it, please get in contact with us. We love to hear from you.